The Tulip Run during the annual EFI meeting in Nantes was a big success! More than 50 participants joined us as we ran 5k through the stunning Parc du CRAPA de l'Ile Beaulieu.
€1400 was raised from registrations and donations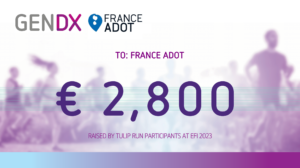 and GenDx doubled the amount, offering ultimately €2800 to ADOT, the French federation for the donation of organs and human tissues. We would like to express our deepest appreciation to all the participants who ran alongside us and contributed to this cause. It's inspiring to see people come together for a common goal and make a difference in the world!
For those who couldn't make it, we invite you to visit our Tulip Run Gallery on our website to view some of the amazing pictures from the event.
Thank you for your support, and we look forward to seeing you in our future events!
Until next year at the EFI 2023 in Jerusalem!