GenDx
Specialized in molecular transplant diagnostics, GenDx develops and offers a comprehensive line of reagents and services, analysis software, and education.
GenDx is a pioneer in the area of Sequencing-Based Typing (SBT) for transplantation, offering high resolution HLA typing methods for Sanger and NGS platforms.
Founders
---
Wietse Mulder PhD (CEO), Erik Rozemuller PhD (Senior Scientist Bioinformatics), Oscar Schoots PhD (Director Stichting Incubator Utrecht) and Raoul Linschoten LLM (Investment Manager and Senior Company Lawyer at Utrecht Holdings) founded GenDx in 2005. Today, GenDx is one of the largest global players in HLA typing represented by more than 80 employees.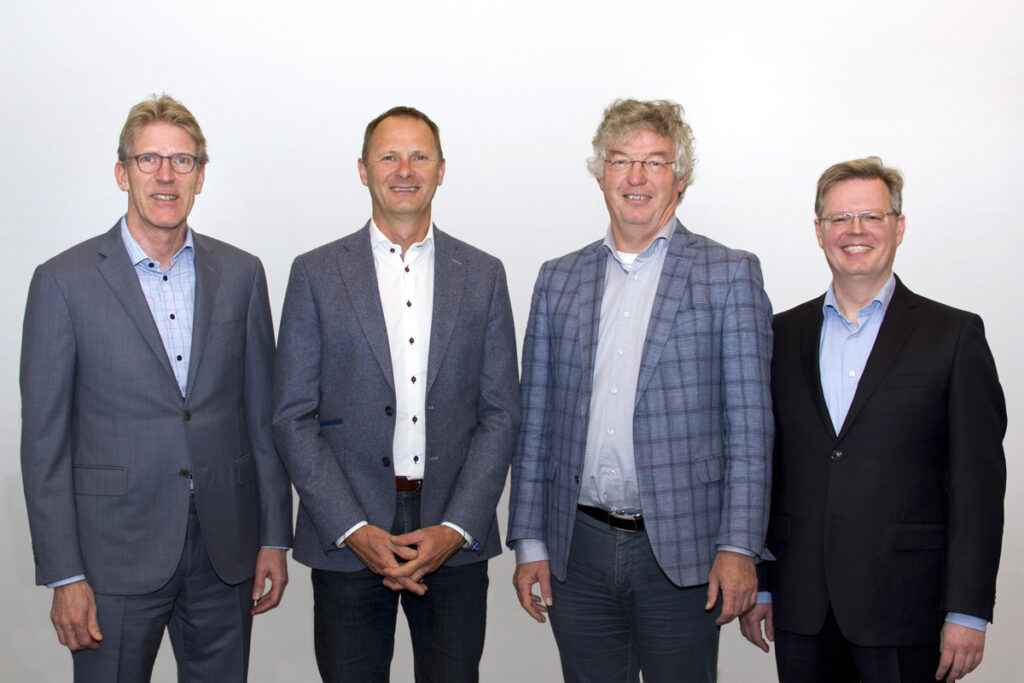 Board of Directors
---
In May 2019, Ampersand Capital Partners completed a minority, growth equity investment in GenDx. In connection with this transaction, David Parker has joined the GenDx Company Board. He joins three founders on the GenDx Board: Wietse Mulder PhD, Raoul Linschoten LLM (Chairman), and Oscar Schoots PhD. The board will be supported by non-director advisors Larry McCarthy PhD and Frank Witney PhD, both seasoned entrepreneurs and executives who serve as Operating Partners at Ampersand.
Mission
Improve the quality of life and survival of transplant patients
Vision
Advance the field of transplantation by offering excellent molecular diagnostic tools and sharing knowledge

Leadership
We aim to be a global leader in molecular diagnostics

Commitment
We improve the quality of life of transplant patients by delivering excellent diagnostic tools.
We put our customers first.
We believe in the success of long-term development of our partnerships.
We value our employees and encourage their professional growth

Sharing
We strongly believe that it is crucial to share knowledge and experience with partners.
We have a strong focus on excellent customer support, education and collaboration.

Independence
We believe that an independent position is a prerequisite for meaningful growth in our field of business
Company Info
---
Genome Diagnostics B.V.
Trade name: GenDx
Yalelaan 48, 3584 CM, Utrecht, The Netherlands
E info@gendx.com  |  T +31 (0)30 252 3799 
DUNS number: 413493037 | Chamber of Commerce: 30202468 | VAT: NL814323194B01
Bank account details
Rabobank
Account number: NL73 RABO 0311 3449 76
IBAN: NL73 RABO 03113 449 76
Bank identifier Code: RABONL2U
ABN Amro
Account number: NL65 ABNA 0847 1390 93
IBAN: NL65 ABNA 0847 1390 93
Bank identifier Code: ABNANL2A
---
Genome Products B.V.
Trade name: GenDx Products
Yalelaan 48, 3584 CM, Utrecht, The Netherlands
E info@gendx.com  |  T +31 (0)30 252 3799 
DUNS number: 413588208 | Chamber of Commerce: 30203002 | VAT: NL814323145B01
Bank account details
Rabobank
Account number: NL73 RABO 0311 3449 33
IBAN: NL73 RABO 03113 449 33
Bank identifier Code: RABONL2U
ABN Amro
Account number: NL60 ABNA 0847 1321 02
IBAN: NL60 ABNA 0847 1321 02
Bank identifier Code: ABNANL2A
---
GenDx Products Inc.
Cumberland Metro Office Park
5521 N. Cumberland Avenue
Suite 1116
Chicago, IL 60656
E info@gendx.org  |  T +1 (312) 815 5006
| | |
| --- | --- |
| Business registration Pennsylvania | 4233043 |
| Business registration Maryland | F16964777 |
| DUNS Number | 079288107 |
| EIN | 46-4533412 |
| Wells Fargo checking account | 3809428687 |
| Wire Routing: | 121000248 |
| Bank Identifier Code (SWIFT) | WFBIUS6S |