Gerben Cramer is a 25-year-old student, currently enrolled in the master's program 'Public Sector Management', and living in Leiden, The Netherlands.
In the summer of 2020, Gerben did something extraordinary: he donated his stem cells to an anonymous patient. We wanted to learn more about what it can be like to be a stem cell donor, and were happy to get in touch with Gerben. Enjoy reading!
When and why did you decide to register as a stem cell donor?
In January 2020, a good friend of mine sent a message in a group WhatsApp, sharing the story of a friend of his, who underwent a stem cell transplant as a treatment for leukemia. The road to receiving the transplant was a bumpy one, as the initial stem cell donor cancelled last minute. As a result, they had to consider finding an eligible donor within the family. The mother turned out to be the best fit, but given her age, it was a risky procedure. Fortunately, the transplant went well, and the patient survived. My friend concluded his story by saying: "Guys, please consider registering yourself as a stem cell donor, because my friend is luckily still alive, but there are still so many patients looking for a stem cell donor." For me, this message was reason enough to sign up. I joined the registry the next day.
"For me, that message was reason enough to sign up. I joined the registry the next day."
You were not registered for that long when you got the call?
Indeed! I was pretty surprised that Matchis reached out to me in March 2020. I did not expect to hear from them so quickly. They told me that it was indeed very unusual, but at that moment there was someone, somewhere in the world, in need of a stem cell transplant… and I was one of the five potential donors selected from the database. So then they examined my blood, and there was a more in-depth medical examination, questions about daily life, and my motivations. In the end, I turned out to be the best match for the patient.
What went through your mind when you heard that you were the best match?
Well, they asked me "Are you sure? Are you sure that you want to do this?". I did not really understand the question, because I thought "Of course! There is a match, and I read that there's only a 1 : 50.000 chance that you are selected as donor". What was on top of mind for me, was that if I could help someone, I should do it. I found it amazing that I could do it, so I thought let's go! Of course, I was also a bit nervous, but mostly I was grateful that I got to be the one to do this.
What do you think about the way you were informed about the procedure in general and the associated risks?
The guidance from Matchis was super good. They really took the time, checked in on how I was doing and how I felt about things, and were honest about the procedure and potential risks. Right from the start, a buddy from Matchis was assigned to me. I could really ask her anything, and she was there on the day of the transplant. That was really nice! They also arranged for a taxi to pick me up and get me back home. Everything is very well organized. Of course you are making an effort by being a donor, but still. It feels like a token of appreciation; they are happy that you are willing to do it.
Was there anything in particular that you were nervous about?
Yes, I was nervous about certain side effects. Personally, I was happy that my stem cells were taken from my blood, as there are less side effects associated with this method than donation via the bone marrow. But, in my opinion, the risk comes with the job, and I wanted to do the job.
Who decides whether stem cells are taken from blood or bone marrow?
You can indicate your preference, but eventually it is up to the patient's doctor which method will be best for the patient. For example, for very small children, a stem cell transplant via the blood is more invasive than via the bone marrow. For older patients, the majority of transplant procedures are in the form of a blood transfusion.
What did the donation procedure look like? And how did you experience it?
72 hours before arriving at the hospital, you have to start with injecting a growth factor drug, to stimulate the body to make more stem cells. Someone from home health care (thuiszorg) came to my house to explain everything. The growth factors needed to be injected in my belly twice a day and fortunately my friends were willing to help me as it felt a little strange doing it myself at some point. Luckily, I did not experience too many unpleasant effects, whereas others do experience muscle and back pain. I was happy to start the donation relatively fit.
On donation day, 09.00AM, I arrived at the hospital. I took a seat, needles were injected in both arms, and then they started the transfusion; three rounds in total.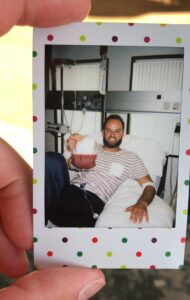 I found it a bit hard not to know the person for which I was doing this. It was someone, somewhere in the world, but that was all I knew; it remains anonymous. At some point during the day, they told me the patient's gender and age. Also, I learned that the patient was on the heavier side, which meant that he needed more stem cells than the average person. So, it depends on how many stem cells are required for the patient whether the donation takes shorter or longer. For me, it took until 5.00PM.
My body had been working the whole day, and you basically 'loose something', so I was pretty exhausted.
"Only when I heard the good news about the patient doing well, it all felt more 'real' and personal. That's when it really kicked in"
What was the donation like, on a more emotional level?
During the donation, I felt a little bit 'distanced' from the cause; you are laying there and at the end of the day, a courier comes along to pick up the stem cells. When I got back home, sitting on the couch, I really felt how tired I was. I could not tell too many people about the transplant, because of anonymity measures. Also, donor and patient can send each other a message, post donation, but that is all anonymous, so for all you know he might live as far away as Madagascar, or something. So, I just continued my life as normal, while I expected that what I just did would feel more special, but that was not really the case.
Only when I heard the good news about the patient doing well (6 months after the donation), it all felt more 'real' and personal. For me, it was at that exact moment that it 'kicked in'. I do not mean this in an arrogant or selfish way, but I realized that the patient survived, because of MY stem cells. That felt so special.
"If I get the chance to make a difference again, I would do it. Without a doubt."
Would you do it again? What if you turn out to be a good match for someone else in need?
Yes. Without a doubt! I have told my story to many others, hoping to inspire them to register as a stem cell donor as well, and if I get the chance to make a difference again, I would do it.
Let's go!
Actually, after the donation, I was asked whether I would be willing to donate more stem cells or white blood cells for the patient, when needed. And of course I said 'yes'. Typically, something like this would happen about 3 months after the donation. It didn't happen eventually.
How long did the recovery process take for you?
Not that long, actually. Two days, max. But other than feeling tired, I did not experience any side effects. For the first 6 months after the donation, they make sure to check how you are doing on a monthly basis. After that, only every 6 months, and at a certain point it's once a year. This way they can monitor whether there are any late side effects occurring after the donation. I definitely appreciate that they are checking in on me!
What would you like to say to people who are not sure if they want to become a potential stem cell donor? For example, people who are a bit scared of the procedure?
I can only speak from my own experience. I think it is most important to inform people, and I feel honored to be able to share my story and information on stem cell donation. Still, to be honest, sometimes I think: "Come on! There are patients, with leukemia for example, waiting for a stem cell donor. Just do it! You can potentially save a life!"… But even though I think everybody should sign up, everyone eventually has to make their own decision.
"The choice is yours, but actually you should just do it"
I really would like to say that the guidance from the Matchis foundation throughout the whole trajectory is absolutely superb. They are very professional and they really show their appreciation for the donors. I experienced that every nurse, every doctor, they all said "Thank you", so I felt really valued. On the one hand, you are doing something really significant, and on the other hand, it is such a small effort… There is only a small chance that you are matched with a patient, but when you get the call, you can give a chance at life!
That is a beautiful conclusion. Thank you so much for sharing your story, Gerben!
———
Are you inspired to become a stem cell donor and give someone a chance to live? Go to www.GenDx.com/stem-cell-donation/ to learn more about how you can register.