Join the virtual GenDx teaching session: Introduction to HLA typing by NGS
Wednesday December 8, 2021 10:00 am – 3:30 pm (CST, Chicago time)
We are happy to announce another virtual GenDx teaching session, intended as an introduction to HLA Typing by NGS. The session is arranged with more basic information in the morning becoming more advanced throughout the day.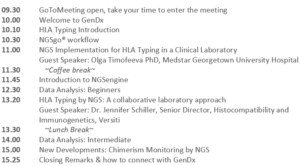 There is no fee to attend the session, and we welcome all looking to begin or enhance their knowledge of HLA typing by Next Generation Sequencing to register. If you attend the session you will get accredited 0.75 CECs.
Please indicate your interest by November 26.
We look forward to 'seeing' you in December!