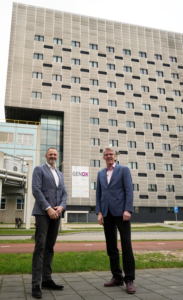 GenDx and Stichting Incubator Utrecht have signed a rental agreement for the top three floors of the Alexander Numan Building. GenDx is a global leader in molecular diagnostics for matching stem cell transplant patients with donors and since 2006 expanding gradually with more office and lab space.
To accommodate 75+ employees today and provide room for R&D, IVD production and logistics, another enlargement was required again. In addition to the 3rd floor, GenDx will get about 3000m2 at its disposal as a welcome replacement for the currently used office and laboratory space in the Androclus building.
Having all activities in a single building with an own conference room and catering will ease collaboration and offer room for further expansion in the near future. As soon as the current tenants have moved to the Accelerator building, GenDx will start adjusting the facilities and expects to be fully operational in the first quarter of 2023.
Read the full press release here