Frans Paymans (61) is a former professional soccer player and a two-time cancer survivor.
He got diagnosed with non-Hodgkin's mantle cell lymphoma in 2011. Back then, Frans was treated by means of his own stem cells. Unfortunately, the disease came back in 2016, and thanks to a match with someone from the stem cell donor registry, Frans was able to recover from the cancer. The battle was not over yet, due to graft-versus-host disease. This implies that donated cells (the graft) see the recipient's cells (the host) as foreign and attack them; a reverse rejection so to say. Luckily, Frans fully recovered from this as well, and was able to go on. Nowadays, Frans is working as location manager on a school for special education. He is committed to keep raising awareness on the importance of stem cell donation, and associated topics.
"Eventually, it comes down to luck, and I have been extremely lucky!"
When were you diagnosed with cancer for the first time?
In 2010, I went to see a doctor after discovering a bump in my inguinal area. That turned out to be a swollen lymph node. In June 2011, I was diagnosed with non-Hodgkin's mantle cell lymphoma, which is a relatively uncommon type of cancer that affects the lymphatic system and damaged about three-quarter of my bone marrow. By the end of July 2011, the treatment started at the Radboud University Medical Center in Nijmegen, The Netherlands. The first stem cell transplant was on January 24th 2012, and those were my own stem cells.
Wait… what? Your own stem cells?
Yes, my own stem cells! It is called an 'autologous' stem cell transplant. The procedure is similar to when a donor goes through the donation process, involving growth factor drug injections to stimulate stem cell production. I first received chemotherapy, and that basically destroys your body, so I had just enough healthy stem cells that could be filtered out and collected by means of an apheresis machine. Eventually, your own stem cells are returned to the body through infusion. It cured me, but unfortunately the cancer came back completely in 2016.
What was the treatment like the second time around?
They went looking for a donor and, luckily, they found a very good match in the stem cell donor database; a young woman from the United States. Our blood group and HLA matched perfectly for the purpose of a stem cell transplant. Thanks to her donation, which was on October 10th 2016, I received the stem cells on October 11th 2016. I recently had my final check up with 'my' doctor. She and her team have been of unbelievable value. From now on, I only need to visit the outpatient department with longer intervals. They still need to monitor you, as there can potentially be residual effects from chemo, even after 10 years. Other than that, all is well.
How did you experience receiving stem cells from someone you do not even know?
I was pretty naïve at first, as I thought that getting stem cells was 'as easy as buying a bread from the bakery', but that turned out not to be the case… I was extremely lucky to match with a donor from the registry, and that donor is the reason I am sitting here, having this conversation with you, and the reason I can do everything I want to do.
And that's why, a couple of years ago, when I was sitting on the top of a mountain in Norway, with my wife, I decided to share my story by publishing a book. A book about 60 years on this earth, and what it all meant to me and what it has brought me. And the ultimate goal was to donate part of the profits to Matchis and KWF Dutch Cancer Society.
The book is titled "It is a Competition" (Het is een Wedstrijd). What was it like to write that book? And, If I may say so, I get the feeling that to you, the battle has not yet ended…
It was a nice thing to do, but it was also very confronting, both regarding the period I was sick and the period prior to that. My main motivator to write this book was the thought of all those who do not live to tell about it.
And yes, on the one hand the battle is over, as last year I was able to leave quite some things behind me. All that's left, is the possibility of residual effects from the chemo therapy that I had back in 2011. But, on the other hand, there is still a need to increase the chances for others to find their perfect match, that battle will never be over. I am committed to raise as much awareness about the topic as possible, and I really want to motivate people to register themselves as a stem cell donor at Matchis.
Looking back to the moment you just got the diagnosis. You told me that you did not know what you were up against at first. How did you cope with that? And what were your first experiences during treatment?
Well, my wife is a nurse and she pretty much knew what was coming, but initially, I had no idea what I was up against. After the diagnosis, driving back home in our car , there was an item on 'Alpe D'HuZes' on the radio. That was the first time I truly realized what that initiative was for, and that really hit me hard. When we got home, we first had a good cry. Then, the questions started coming: "What does this all mean? Am I going to survive this? Will I live to see my grandchildren?". My wife and I met in 2010, and in June 2011 I got the diagnosis, so we had not been together for that long. We wrote down all our questions, and contacted my doctor, who was willing to discuss everything we wanted to know. What I really appreciated, is that she was transparent and straightforward.
At some point, after chemo started, I woke up looking at my pillow covered with plucks of hair that had fallen out. I realized at that moment that this was a first tangible result of the chemo. I had a couple of outpatient treatments, but at some point I was in the hospital for about 78 days, divided over 3 hospital admissions. Both the treatment and recovering from the treatment was, to put it mildly, not always the most pleasant experience. Basically, all that's left is a body with a beating heart. You feel exhausted. You do not have any energy to do anything, not even to take a shower in the morning.
"Basically, after chemo, all that's left is a body with a beating heart. You feel exhausted."
Would you say that your athlete mentality benefited you throughout the whole trajectory?
Yes, I definitely think that my love for sports helped me back then, and that motivated me to get on the home trainer at least 2 and sometimes 3 times per day, for about 15-20 minutes. I did this to keep myself busy, but was also hoping it would contribute to my recovery. Still, eventually it comes down to luck, and I have been extremely lucky.
Actually, around the time I got my first treatment, in 2011, they started with research regarding the effects of working out prior to cancer treatment. I believe that nowadays, health insurances are covering costs for personal training for people who need to get treatment so they will start at a higher fitness baseline. So, that is a beautiful development, if you ask me.
What else helped you to get through the treatment and recovery?
My wife. She was there for me. You really need that 'second person' to be there during meetings with the doctor, as you are only able to process half of what they are telling you. The role of the partner is extremely important, and sometimes even underexposed. Imagine what they are going through: keeping their day to day life running, commute to and from the hospital, worrying about you and going to bed alone, scared that you might not be there anymore when they wake up the next day…  That is extremely hard and I think there should be more awareness about this as well.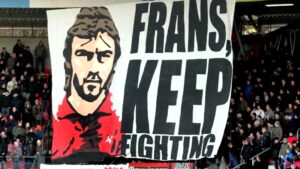 Also, what I remember very vividly, is something that happened in 2012, when I was doing extremely unwell. My old soccer team, N.E.C. Nijmegen, played against my favorite soccer team, Feyenoord. There was a gigantic banner, put up by the crowd in the stadium, that said: "Frans, keep fighting" along with a huge painting of my face. It touched me deeply. I got so many messages after that. The original banner is completely weathered by now. To my surprise, the boys who made the original banner gifted me a small replica, on canvas, a short while ago. That was heartwarming.
I learned that it is possible to send an anonymous letter to the donor. Did you do that?
Not yet… it did cross our minds many times already, but it wasn't the right time. In October 2021, it will be exactly 5 years ago that I got the stem cell transplant, so we are planning to send the letter then. A short while ago, during the "Stamweek", I got the chance to read out loud part of the letter to my donor, live on radio station 3FM. That was very special.
The people from Matchis and the Radboud UMC stem cell consultants will be translating the final letter for me, and make sure there is no information in it that can be traced back to me. They will then send the letter to my donor.
Why did you decide to wait for the five year mark?
Things can still go wrong. And for me, it did. When I was finally cured from cancer, I got graft versus host disease, which made me very sick – it felt like I died a few times. Fortunately, after a lot of research, they were able to cure me from that. So, that also confirmed that waiting for that so-called 'magical' five year mark before contacting the donor, was a good decision.
"I did not have any control over my own body. I felt desperate and powerless."
That must have been real hard, to get so sick after healing from cancer…
I did not have any control over my own body. It mainly affected my gut and later on also my skin.  I felt desperate and powerless. I was extremely dehydrated, and I had random blackouts that I did not even consciously experience. It was horrible. Fortunately, I fully recovered and can now enjoy the outdoors, biking and walking again.
To conclude, what would you like to say to people who are considering to become a stem cell donor, or who are still hesitating?
The beauty of this day and age, is that most of stem cell donations are taken via blood. In only a small proportion of donations, stem cells are taken from bone marrow. Most people can donate via blood, which involves growth factor drug injections, followed by harvesting by means of the apheresis machine. This procedure typically comes with mild, flu-like side effects that last only a couple of days. Then it is gone. So, if you are willing to pay that relatively small price, to really make a difference for a patient in need of a stem cell transplant, please… do not miss out on that opportunity! There are so many people who deserve it, just as I was lucky enough to receive stem cells from that young woman in the US. To all young men and women: let's go, come on, please, join the registry!
——-
We thank Frans for taking the time to meet with us, and hope that you are as impressed with his story as we are. If you want to read Frans' full story, you can go to his website: www.franspaymans.nl.
Are you inspired to become a stem cell donor and give someone a chance to live? Go to www.GenDx.com/stem-cell-donation/ to learn more about how you can register.