£2.029 cheque handed to Beachon Cancer Charity
Thanks to the contributions of the participants of the #EFI2021 virtual Tulip Run and the multiplication from GenDx, EFI president Ann-Margaret Little and her colleague Helen McFarlane were able to hand over a cheque of £2.029 to the Beatson Cancer Charity in Glasgow. COVID restrictions caused a delay in the in-person handover, but happily, it could be realized now.
Grateful thanks to everyone who contributed!
Maisie McCormick, Community Fundraising Manager at Beatson Cancer Charity mentioned: "On behalf of everyone at Beatson Cancer Charity, thank you for your kind and generous donation of £2,096.79 raised through this year's Tulip Run. What an incredible donation – it just goes to show how your generous clients and contacts used their initiative and got out to do their run wherever they were, despite not being with others. We are thrilled at having received such a fantastic donation. Please pass on our grateful thanks to everyone who contributed in some way. Thanks to your support we can continue to invest in services, staff, research, and education to provide a better future for those affected by cancer".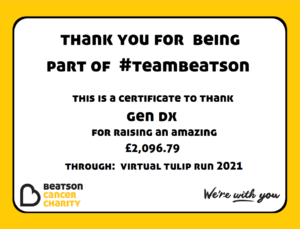 Thank you all for your support and looking forward to meeting you at the next Tulip Run event!