Join the Virtual GenDx Teaching Session at the 2021 annual ASHI meeting!

Monday September 27, 2021 9:00am – 2:30 pm (EDT, Orlando time)
This event is fully booked. If you are interested to join the waitlist please contact us at marketing@gendx.com
We are happy to announce another teaching session the day the ASHI annual meeting starts. This year, we will hold this event virtually. This course will focus mostly on HLA typing by NGS. As we noticed a demand for both beginners and intermediate users, the session is arranged with more basic information in the morning becoming more advanced throughout the day.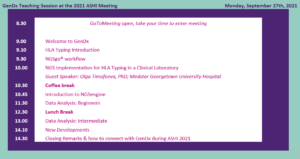 There is no fee to attend the course, and we welcome all looking to begin or enhance their knowledge of HLA typing by Next Generation Sequencing to register.
Please indicate your interest by September 20th.
We look forward to 'seeing' you in a few weeks!