Is your lab interested in MICA and MICB and you are eager for a collaboration?
GenDx is making an open call for research proposals for the investigation of the role of MICA and MICB in transplant success.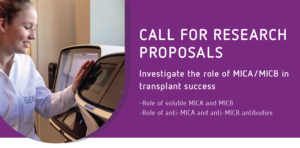 We offer
Access to hybridomas to obtain anti-MICA and MICB antibodies

Access to HEK293 cell lines for antigen production (16 MICA, 6 MICB antigens)

The assay details

Our knowledge and scientific experience to obtain the best possible outcome
You provide
Research proposal

Investigate role of MICA/B in transplant success

Use of 1 (or both) of the MICA MICB ELISAs

Use patient samples

Intension to publish (in peer reviewed journal)

Lab with facilities to produce antibodies/antigens from hybridomas/HEK293
Access to relevant patient samples
Test and optimize ELISA assay(s)
Interested?
Write one A4 research proposal and send it to support@gendx.com